Ever have a wtf moment? I have noticed that there have been a lot of those happening lately. Not to me mind you but to the so-called beautiful people that we have come to know and love/hate. Here are just some of the moments in a series I am pursuing called "Moments in WTF History", Celebrity edition:

In no set order -


Most, if not all, of us have heard of her. Her first hit single Poker Face made me a fan but her uncanny and outrageous choice in outfits have made me go 'wtf?' multiple times. I think she has literally gone Gaga in the head. Come on. Who else do you know dresses up like a Slim Jim and bubble wrap? <- I guess people are sending out gag gifts early this year.







Ok, there's not much to say here except, you guessed it, 'wtf?' I still cannot believe this kid has gotten so popular and his own shirt logo. Me thinks I should do stupid crap and post it on youtube so I can get rich and famous.












This is just one of the many reasons that I have not had the urge to want to watch American Idol again. Come on people! The woman does not sing, can't really dance, and so what if she's a fan of music? You don't see me up there as a judge based solely on that reasoning. It's no wonder that Simon is leaving the show.






Stupid things Taylor Swift says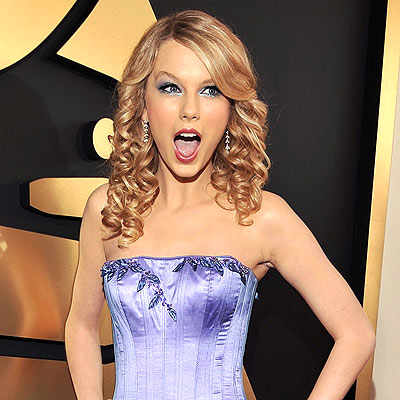 Meanwhile, Swift didn't want to jinx anything by predicting her chances of winning any of the eight Grammys she's nominated for, but today's date—1/13/10—is a good sign."My lucky number is thirteen and I've seen it so much lately," she said. "I think it means positive things."

"I was driving down the road the other day and I saw my face on the movie poster for the first time," she said. "That was really crazy."
Yeah, I know 13 to some people is considered a lucky number. But it doesn't matter what day you predict something like an awards show. They're more than likely rigged anyway so a not so heartfelt congrats goes out o her for more than likely winning and stealing the award from somebody else who deserved more. In response to the last quote, yeah it is crazy that someone was dumb enough to put her in a movie. Just shut up already you look like a blow up doll when you talk.
There's not really a comment I can say about this except about one of the other many reasons I don't watch A.I. anymore. Come on America, there are better singers in the country besides this glam idiot rock guy.